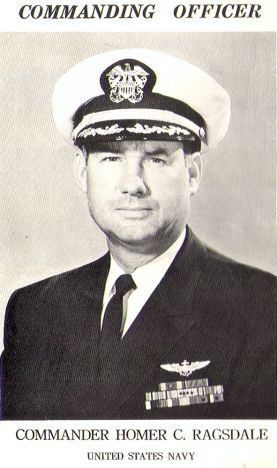 Commander Ragsdale became CO of VP2 on 07Jan1966; after reporting to the squadron for duty as XO in April 1965.
Cdr Ragsdale began his military career at the US Navy Pre-Flight School, University of Georgia, in Feb 1943. Receiving his wings and commission as an Ensign in 1944, he subsequently served tours of duty with VPB11and VPB33 in the Southwest Pacific. While with VPB33 he participated in the Philippine invasion and liberation at Leyte Gulf.
Following duty at NAS Banana River, VPB 100 and VP-AM4, he was released to inactive duty, and served with reserve squadron VP741 at Jacksonville, FL. In March of 1950, VP741 was recalled to active duty. Cdr Ragsdale served subsequent tours at NAS Pensacola, NAS Atlanta, VR2, VX6, and the FAA in Washington DC as an Air Traffic Control Specialist and Executive Pilot. Prior to reporting to VP2, Commander Ragsdale served with the Navy Regional Airspace Office, Los Angeles as the assistant Navy Airspace Officer.
He is married to the former Miss Kathleen A Thomas of Oak Hill, WV. Commander and Mrs Ragsdale have eight children; Susanne, Homer III, Robert, Kathleen, Harry, Randolph, Emily and Caroline.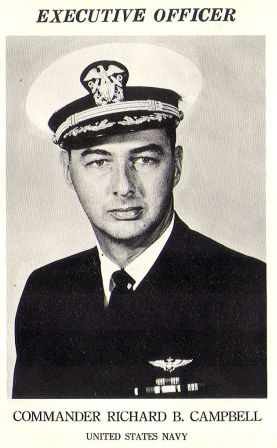 Commander Compbell reported to VP2 in Jan1966 for duty as XO. He entered the Navy on 15Dec1945 in the V-5 Officer's Candidate program. Upon completion of two years accelerated university work, Cdr Campbell reported to basic flight training at Pensacola FL.
Cdr Campbell served as a Midshipman Naval Aviator in 1949 with VP28. Subsequently, he served with VP22, the Advanced Training Command as a flight instructor at Hutchinson KS, and VR8 at Hickam Air Force Base, HI.
Cdr Campbell then returned to the University of Souther California, Graduating Magna Cum Laude in Feb 1959. Following graduation, his tours of duty included NAS North Island, USS Independence and ComSixthFlt staff at VilleFranche, France. While attached to VP6 at NAS Barbers Point he was promoted to Commander, and served as XO from June65 until ordered to VP2.
He is married to the former Miss Trudy Eggers of Los Angeles, and they have two children, Susan Patricia and Richard David..