I graduated from Duke University in 1957 with a degree in electrical engineering and received my commission as an Ensign, USN, under the NROTC program. After flight training, I was assigned to VP-2 in early 1959 and had my first exposure to the Great Pacific Northwest. Since then, I've always chosen to remain on the West Coast as an area to live and work in.
In 1962, I resigned my Naval commission and found a position as a research engineer with Lockheed Missiles and Space Company in Sunnyvale, CA. I worked on a number of preliminary designs for underwater weapon systems primarily in the technical areas of guidance and control systems. I spent several years designing and assisting in the fabrication of the electronics suite for Deep Quest, a Lockheed funded deep submergence research submersible that proved many of the design concepts incorporated in the Navy's Deep Submergence Rescue Vehicle (DSRV).
In 1967 I joined Trans World Airlines (TWA) as a pilot, being initially trained on the Boeing 707 as a Flight Engineer. During 20 years with TWA, I spent 16 years on the B-707, 2 years on the B-727 and 2 years on the Lockheed L-1011, mostly in the Flight Engineer seat with a little time as a 707 First Officer. My choices of aircraft and positions permitted me to remain on the West Coast my entire career, but as age caught up and seniority didn't, I took early retirement from TWA and returned to my old job at Lockheed in 1987.
While there for the second time, I managed a test organization for evaluating weapon systems and their components. Major test vehicles consisted of a Cheyenne II aircraft, a 32 foot, sea-going boat, and a former bus used as a land based mobile test installation. Later, I was associated with the lab testing of the Theater High Altitude Air Defense (THAAD) system and finally ended my Lockheed career, taking retirement in 1996.
Over the years, my first wife and I had 4 children; lived in Sunnyvale, CA and Grants Pass, OR. My oldest daughter, Lynn, is a family counselor in Eugene, OR. My second daughter, Kristen, lives and works in San Francisco. Susan is my third daughter and enjoys country living with her family in north central Oregon. My son, Karl, a career Army Reserve officer currently serving in Afghanistan, makes his home in Medford, OR.
The career with TWA provided ample opportunities for family world travel, apple farming in Oregon, and many other pursuits along the way. Reading history, economics and politics are still some of my favorite pastimes. But learning more of the digital world while with TWA stood me in good stead when I chose to resume my engineering career.
In 1993, I met my wife Pam and we've shared a wonderful life together since then. Pam was born in England and her father and grandfather were both career British Army officers in the Kings Shropshire Light Infantry regiment serving mostly in Burma and India. Her father unfortunately died as a result of the Burma Campaign. Her pre-war years were spent in Burma and she was evacuated out by American Volunteer Pilots (AVP) when the Japanese arrived. She spent the war years in India. She, her mother, and younger brother returned to England after the war where she attended a private boarding school (Royal Masonic School for Girls) – the Queen actually formally visited her school! After graduating from a Secretarial College in London, she worked in London, commuting to the coast where she lived. She and her first husband immigrated to Canada in 1960 and two years later to the US where a son and daughter were born. Nigel is an economist for the US Department of Agriculture with a PhD in International Agricultural Economics, having also served in the Peace Corps in Sierra Leone; and Robin became a full time Mom after receiving her MBA and working for several high tech companies.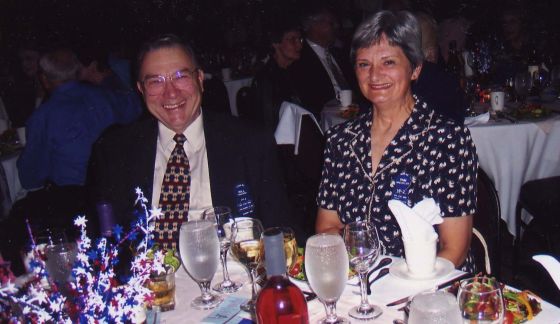 In 1997, Pam resigned her position as Executive Assistant to three retired former Hewlett-Packard Company executives and we moved to southwestern Oregon. She is totally absorbed by the abundant wildlife in the area and is an avid reader of non-fiction. Bill is still involved in utilizing modern signal processing techniques as applied to investment markets (not fully retired yet). In addition, he performs as a member of a flute choir and other musical ensembles, and is constructing an HO scale model railroad. We enjoy walking and hiking together and do a certain amount of travel from time-to-time. Life is great!