Born: Aliquippa, PA, January 13, 1939.
Graduated from St. Veronica's High School, Ambridge, PA in 1956.
Attended Carnegie Institute of Technology (now Carnegie-Mellon University), Pittsburgh, PA 1956-1957.

Joined the U.S. Navy in September 1957. Went to boot camp at Great Lakes and attended AT "A" School at NATTC, Memphis.

Served as an aircrew Radio Operator in VW-1, Agana, Guam, 1958-60 and VP-2 (Crew 8), 1960-62 at NAS Whidbey. I was discharged in May 1962 after the squadron returned from Kodiak.

Rejoined the Navy in August 1962 and was assigned to AEWBARRONPAC, Barber's Point, HI, flying EC-121K aircraft out of Midway Island. Switched from Radio to Electronic Crew Chief.

Transferred to VQ-2, Rota, Spain, 1964-66. Due to loss of hearing, I was grounded in late 1964. Subsequently served as line maintenance tech and as POIC of Maintenance Dets. at various sites ashore and at sea. Transferred to NATTC Memphis for instructor duty at AFU "A" School from 1966-68.

Served in VAW-113, 1968-72, where I was assigned to Semi-Automatic Test Equipment (SACE) shops at NAS North Island, USS Constellation and USS Enterprise as Shop Supervisor.

Transferred to HC-7 Det Cubi, 1972-1973 where I was Senior Enlisted Advisor.

My final tour of duty was at the E2A NAMTD, 1973-1977, where I taught SACE and served as Phase Chief. This tour began at NAS North Island and moved to NAS Miramar, where I retired in March of 1977.

My civilian career began at Perkin-Elmer Data Systems (formerly Wangco), Los Angeles, employed as a Technical Education Specialist. Our product was computer peripheral devices, which I taught all over the U.S. (Cape Canaveral to Santa Barbara) in 1977-78.

From 1978-1998, I worked on the Army's Apache Helicopter Program through two mergers and a plant move. I began at Hughes Helicopters in Culver City, CA which merged with McDonnell Douglas and moved to Mesa, AZ in 1985. Finally retired from MD Helicopters in 1997 and worked as a consultant for Boeing Helicopters after they merged in 1997. Responsibilities included: Training Analyst/Designer, 1978-80; Supervisor, then Chief of Maintenance Training Systems, 1980-81; Chief, then Manager of Trainer Engineering, 1981-91; Senior Project Leader of the Longbow Apache Full Mission Simulator, 1991-1997; Consultant to Boeing on the Rotocraft Pilot's Associate (RPA) Simulation Development and Testing, 1997-1998.

Since retirement, my wife Juanita and I have traveled extensively and are enjoying our grandchildren. I also am a volunteer teacher for helicopters in our Mesa Public Schools (MPS) Flight Centers. We have two centers and each has a fixed wing and a Helo Simulator, downsized so 5th graders can fly them. I also volunteer at other MPS functions such as CO2 model car drag racing.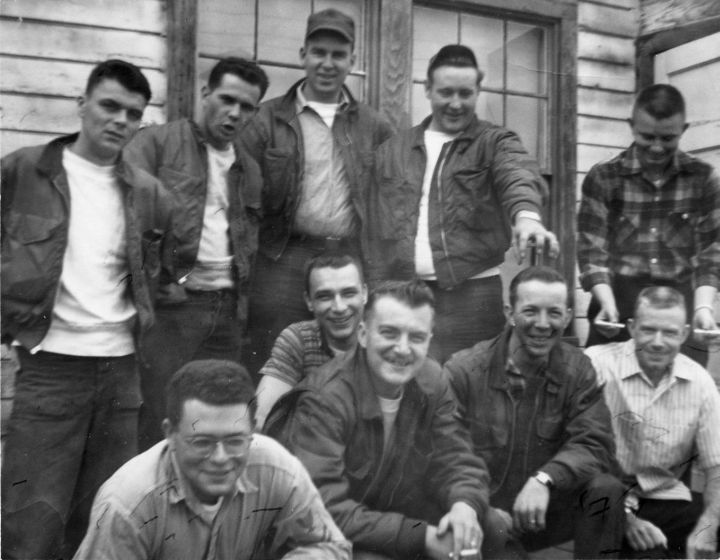 Crew 8; Norpac Hill, Adak; Aug1962
Front - Dan Davey, Rdo; Maurice Lund, PC; Newsom, 2M; Dan O'Donnell, PPC
Rear - Braswell, 2M; Tom Muchow, Rdr; Larry Harville, Ord; Patrick Cordell, JJez; Gary Ledbetter, Nav
Middle behind Lund - Bill Haeckler, CP